This SnapShots in Akiba site has some anime, game, or seiyuu related snapshots taken while walking around in the Akihabara area.
Comments to snapshots@usagi.org.
PC | smartphone
Current CD/DVD ads
2013-11-11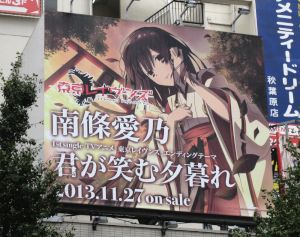 In November, there were many ads for current CD and DVD releases on the various buildings on the main street of Akihabara.

Solo single by Nanjou Yoshino (ending song for Tokyo Ravens).

CDs for the opening and ending songs for Machine Doll ha Kizutsukanai (機巧少女は傷つかない).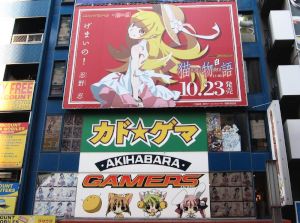 Nekomonogatari Second Season DVD.
2013-11-11
2013 SnapShots:
1 2 3 .. 20
List of recent SnapShots:

-show all months-
-all categories-
PC | smartphone
Some other AkibaSearch services below:

AkibaSearch general search
AkibaSearch blog search