This SnapShots in Akiba site has some anime, game, or seiyuu related snapshots taken while walking around in the Akihabara area.
Comments to snapshots@usagi.org.
PC | smartphone
Yui Kaori "Bunny"
2013-10-19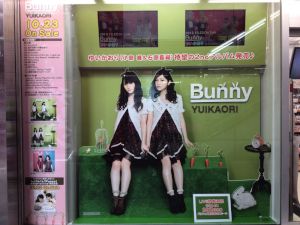 In the middle of October 2013, the display on the side of Toranoana had an advertisement for the upcoming CD by the seiyuu group Yui Kaori. Yui Kaori's second album Bunny will go on sale 10/23.
2013-10-19
2013 SnapShots:
1 2 3 .. 20
List of recent SnapShots:

-show all months-
-all categories-
PC | smartphone
Some other AkibaSearch services below:

AkibaSearch general search
AkibaSearch blog search