2013-09-21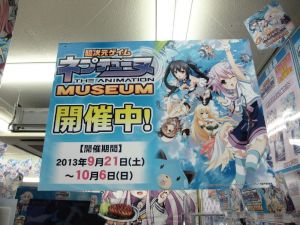 Between September 21 and October 6, there was a museum for the TV anime Choujigen Game Neptune on the 7th floor of Gamers.

At first, photos were not allowed for most of the museum. But later they allowed photos for all parts of the museum.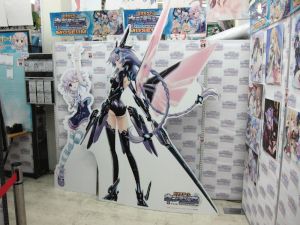 There were pops of Neptune in normal form and megami form.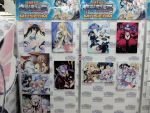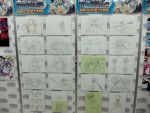 There was one wall of 10 anime panels and 20 sketch panels.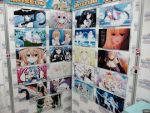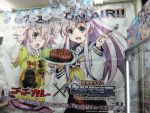 There was another wall of 21 anime panels and a huge tapestry of the Neptune and Go Go Curry colaboration.

This tapestry is probably the same one that was hung above the Go Go Curry restaurant on Chuuou Doori.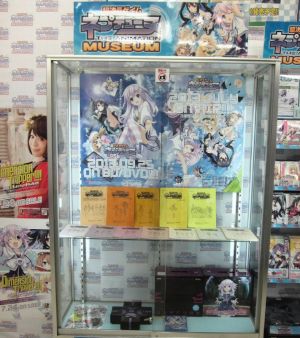 There was also a show case with scripts and goods.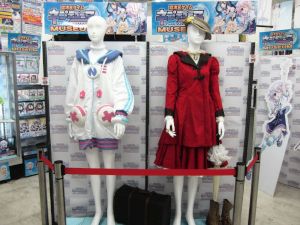 In the middle of the room, there were two outfits. One was Neptune's white outfit. The other was the red dress worn by Nao in the promo video for the Neptune OP.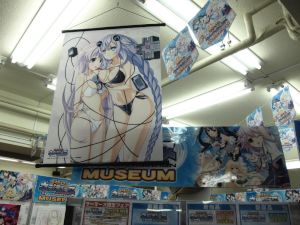 They also sold many Neptune goods: CDs, DVDs, novels, drinks, towel, tapestry, etc.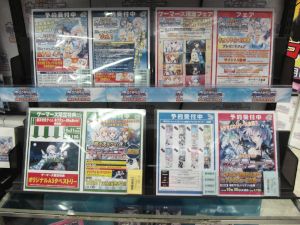 There was a Gamers campaign between 9/21 and 10/27, where those who bought Neptune goods can get one bromide for each 1000 yen spent. There were a total of 8 different pictures.