2015-01-17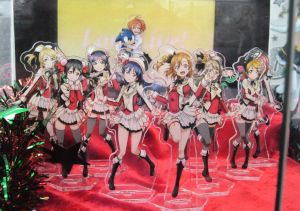 On January 17 the Sega game centers got the second shipment of the acryllic stands. The first lot became available on January 10, but they ran out right away.

The current Love Live campaign began in December.

To get one of the stands, you had to play the catcher machines two times (1000 yen total).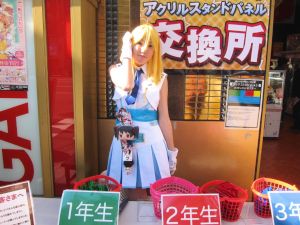 At some of the game centers, the staff cosplayed as the Love Live characters at the table where they exchanged the tickets for the acryllic stands.

You can choose the year of the students, but the stands are random. The special stand of Rin holding Sonic is included in each of the years.

They started passing out the third Rin-chan newspaper.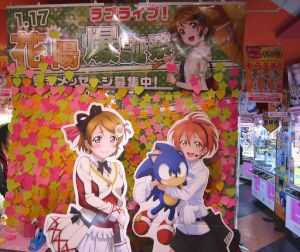 January 17 was also Koizumi Hanayo's birthday, and there were decorations and message boards for Hanayo.